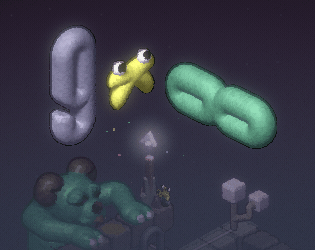 9 x ∞ (in development)
A downloadable game for Windows
Nine by Infinity
Take care of the intergalactic flora and fauna on a puzzling space station. Collect forgotten tools and use them to plan your limited actions.
This is a 6-level demo of what might eventually become a full game.
I sometimes post updates to this devlog thread on Twitter: https://twitter.com/TooMuchTomato/status/1366086344557084688
Download
Download
9 by Infinity - Windows - 0.01b.zip
31 MB
Comments
Log in with itch.io to leave a comment.
Hi there, I tried downloading the latest package to try but it seems like the exe file is missing?
Thanks for letting me know! I've temporarily reverted this page to the old version without a pause menu and some big fixes, but it should have the exe. Will update with fixes when I get back home